Discover more from Looking Sideways: 10 Things
Examining life through the lens of surfing, snowboarding and skateboarding.
Looking Sideways is proudly reader and listener supported. Thanks to all my paid subscribers, who help keep the podcast and newsletter free for everybody.
If you want to trial a paid subscription, there's a really simple way: just forward this to five friends using the button below, and if they sign up free or paid, you'll get three months paid sub free. Easy.
---
1. One of the great pleasure in shifting the Looking Sideways universe to Substack is the way it means I can publish articles such as this brilliant, thought-provoking piece by Lesley McKenna.
I think it's fair to say that it's the type of piece that wouldn't find a home anywhere else, but personally I think we need perspectives such as Lesley's more than ever, which is why I am sharing it again here:
---
2. If you've been following me for a while, you know I have fairly strong views on why people should be paid fairly for their work.
In 2023, it really is still remarkable that brands, events and companies feel they can offer 'exposure', 'networking opportunities' and free products in lieu of proper payment to the speakers, experts and commentators who make their enterprises possible.
I get asked to speak at events all the time and my first question is always 'How much are you paying your speakers?' If they can't answer that question convincingly, I don't do the event. Personally, I think if you participate in an event that behaves this way, you're tacitly endorsing and perpetuating this behaviour. Which is especially problematic if that event claims to be at the forefront of the equity and diversity conversation, which many of them are now.
We discussed the topic in this Open Thread, and I subsequently wrote about it here and here. I also discussed it as a guest on the On The Outside podcast here.
So as you can imagine, this article by my friend Soraya Abdel-Hadi was right up my boulevard. Highly recommended reading (especially if you run an event, or are in charge of marketing for a brand). Click here to read it.
---
3. These days, musician and producer Steve Albini is a proper relic, a core punk rock throwback from a bygone era. But for us Gen X music freaks, Albini's caustic influence looms large: which is why I found this lengthy Guardian profile with a late middle-aged, seemingly mellowing Albini to be so fascinating. Read it here.
---
4. My pals at Swell Season have a great interview with trans surfer Sasha Lowerson out now. Highly recommended listening.
---
5. Big thanks to Nicki Bass at the Everyday Adventure Podcast for choosing me as one of her favourite independent podcasts in the latest issue of Pod Bible Magazine. Order your copy here.
---
6. Interviewing somebody from innovative sustainable farming collective Fibreshed for Type 2 was something I never managed to sort out, much to my chagrin. So I was intrigued to read about their partnership with Kelly Slater's Outerknown label. Find more here.
---
7. A podcast interview with sociologist Kristin Lawler in which she discusses 'the Nietzschean connections between early twentieth century surfers and the hobos of the Industrial Workers of the World'? I could not be more in. Listen above.
---
---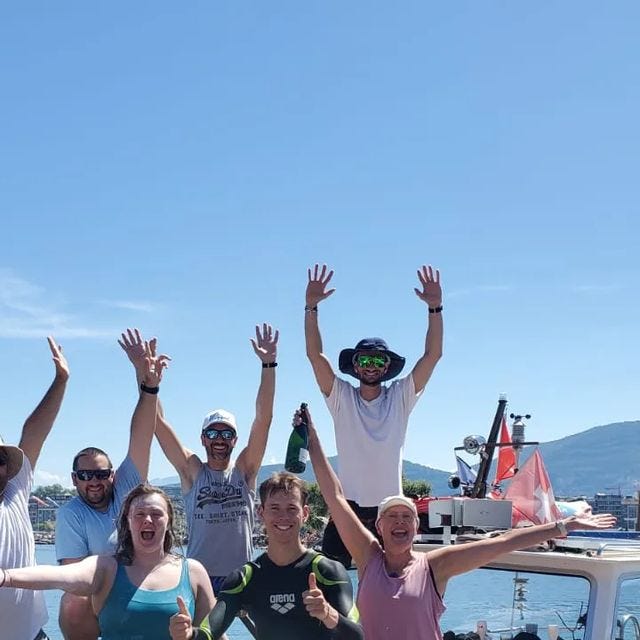 Amy | Ultramarathon Swimmer on Instagram: "Chillon Castle to Bains des Pâquis 72km
28hrs 12mins 55secs (unratified)
1st British Woman
New British (overall) record
Youngest soloist
1st soloist of 2023
#10
Thank you beyond measure to
@willing_to_tri
,
@joreed1616
,
@beckye12
and the crew of the
@lakegenevasa
Free Steel. I could not have done it without you 💙"
8. Marathon swimmer Amy Ennion is one of my favourite follows on Instagram. She just completed a 72km swim of the length off Lake Geneva in 28 hours 12 minutes! Click the link above to find out more
---
9. I had to share this brilliant playlist created by one of my pals Russ, which soundtracked my recent six week French sojourn. Stick it on shuffle; you won't regret it.
---
10. Well, this is a new one … Steven Kotler's Flow Research Collective have reskinned our recent conversation, referred to me as 'visionary sports journalist Matt Barr, the co-Director of All Conditions Media, and the inspirational creator of the Looking Sideways Action Sports podcast' and put it out as if we were having a proper good old life-hacky deep dive bro-down. Tbh I respect the shameless hustle of that. More here.
---
Got a story or link you think might work for my weekly Ten Things, which goes out to thousands of readers each week? Let me know!