Looking Sideways: 10 Things
Here are this week's ten things I thought were worth sharing
1. The latest episode of Type 2, the podcast I make with my friends at Patagonia, and through I explore the intersection between the outdoors, action sports and activism.
This week's guest is Keme Nzerem, one of the UK's most respected news journalists and broadcasters.
Thanks for reading Looking Sideways: 10 Things! Subscribe for free to receive new posts and support my work.
For the last two years, myself, Keme and a big group of individual, agencies and brands who work in the European outdoor and creative industries have been involved in the establishment of the not-for-profit initiative Opening Up The Outdoors (OUTO).
As a group, we came together in the wake of the Black Live Matter protests, with the goal of doing something tangible to help create an outdoor community and industry that is truly diverse, equitable, anti-racist and accessible.
OUTO officially launched at the beginning of September 2022, so to mark the occasion and to go into the concept in more detail, I headed up to London to chat the whole thing through with Keme.
As you might expect from one of the UK's most respected broadcasters, Keme is a peerless communicator and it was an absolute pleasure to discuss the whole thing with him, as well his own relationship to the issues OUTO was formed to try and help resolve. Click the link below to listen.
---
2. To find out more about OUTO and the Online Allyship Commitment, and get involved as a trustee or in other ways, click here.
---
3. As expected, the week following Patagonia's 'the earth is our only shareholder' announcement saw the hot takes coming thick and fast. Click here to read Mark Ritson's view, and here to read a hyper-critical (and completely hyperbolic, as that title suggests) analysis of the move.
---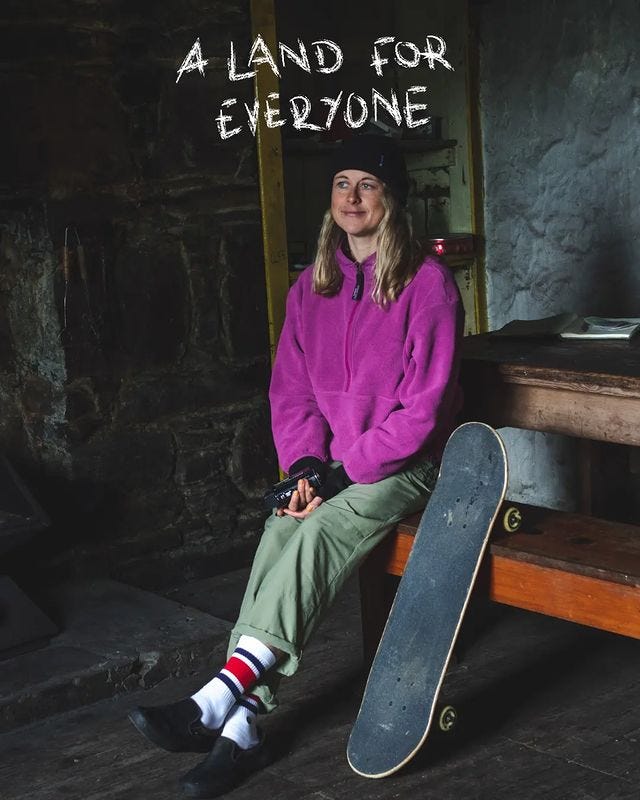 4. My friends and pod alumnae Lyndsay McClaren and Hannah Bailey have been working on a brilliant project called A Land For Everyone. I've had a sneak preview and it's lovely piece of work. Click the images to follow them both and find out more.
---
5. Frontside lipslide on a surfboard anyone?
---
6. This new film by Fridays for Future U.S. and creative agency FRED & FARID is a pretty effective demonstration of the effects of climate change on the Golden State. Watch it above.
---
7. Interviewing Ross Edgley aboard Hecate the day before he finished the Great British Swim was definitely a highlight in the five or so years I've been doing the podcast.
Last week Ross was at it again, attempting the longest ever non-stop swim in Loch Ness to raise awareness for the protection and preservation of the sea kelp forests on the coast of Scotland with Talisker Whisky and Parley.
After 50 odd hours in the drink, the swim was called off as it 'didn't entirely go to plan', as Ross put in a recent Insta post. Get well soon Ross - and click this link to hear my 2018 interview with Ross.
---
8. The latest SMiLE interview from the Ben Raemers Foundation features Fred Gall discussing his own addiction and mental health issues, and is powerful stuff. Watch it above.
---
9. Last week's Nelson's Tour de Test Valley was, as ever, a beautiful celebration of his life and legacy. I chaired a quick discussion about mental health with Juliet Elliot, Billy Morgan, Schoph and Simon from CALM (above). Big thanks to everybody for taking part, and to everybody who listened in so patiently as we held up the raffle! Pic by my pal Natalie Mayer - thanks Nat!
---
10. Friend-of-the-pod and OUTO alumni Yvette Curtis is carrying out a survey on perceptions of surfing in the UK. To take part, click this link.
Enjoyed this edition of 10 Things? You know what to do:
---
Thanks for reading Looking Sideways: 10 Things! Subscribe for free to receive new posts and support my work.